Luettelo:
Kotimaiset uutuudet
Manga-uutuudet
Ennakkotilaukset
Ulkomaiset uutuudet
Lehdet ja kirjat
Käytetyt sarjakuvat
Oheistavarat
Alkuun
KOTIMAISET UUTUUDET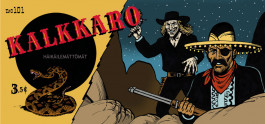 Petri Hiltunen: Kalkkaro 101
Häikäilemättömät, osa 4/5.
Kalkkaro on Petri Hiltusen piirtämä ja käsikirjoittama lännensarja, joka on ilmestynyt sanomalehdissä vuodesta 2005 alkaen.
Sarja sijoittuu Yhdysvaltojen eteläosaan 1860-luvun lopulle.
Tarinoita ei ole aikaisemmin julkaistu albumeissa. Kalkkaro ilmestyy kerran kuukaudessa.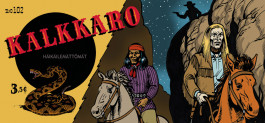 Petri Hiltunen: Kalkkaro 102
Häikäilemättömät, osa 5/5.
.
.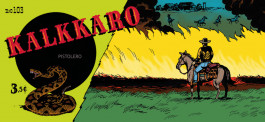 Petri Hiltunen: Kalkkaro 103
Pistolero, osa 1.
.
.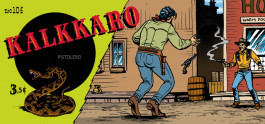 Petri Hiltunen: Kalkkaro 104
Pistolero, osa 2.
.
.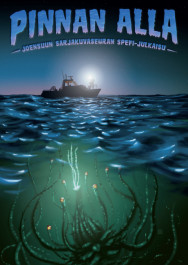 Pinnan alla
Maamme itäisimmän sarjakuvaseuran yhdeksäs ihme. Porukkaa mukana räpiköimässä leveällä pensselillä, sarjakuvan weteraaneista märkäkorviin.
"Joensuun sarjakuvaseuran albumissa tutut paikat ja tapahtumat saavat uusia merkityksiä.
Joensuu taipuu Joenzooksi ja Jon-suuksi, teksti paikoin karjalaksi. Kuvista voi aistia värähdykset.
Tapahtuuko kaupungissa jotain suurta? Niin suurta, että meistä tulee toisarvoinen kysymys ja toisen viulun soittajia?
Bradburyn Kuvitetun miehen yhdessä kertomuksessa kaupunkiin saapuu hyvä, älykäs, armelias ja loputtoman viisas tekopyhyyttä ja likaista politiikkaa vastustava Mies. Hänen rinnallaan muiden saavutukset menettävät merkityksensä. Tuollainen mies lymyää pinnan alla ja joutuu antamaan tilaa zombiuttavalle pandemialle.
"Pinnan alla -kokoelman tarinat eivät pysähdy dystopiaan, vaan kuljettavat lukijan syvistä vesistä ja plasmasta ihmisten ilmoille.
Ja tässä albumissa "ihmisten ilmoille" saa uudenlaisen sisällön ja merkityksen.
Siihen ja moneen muuhun yllättävään tulee Joensuun sarjakuvaseuran albumin lukija jälleen kerran törmäämään. Pidä mieli avoinna – tämä kokoelma voi vaikuttaa maailmankuvaasi!"
– Tarja Kupiainen, FT, yliopettaja, Karelia-ammattikorkeakoulu
Pinnan alle kurkanneet: Kapu Matilainen, Sanna Nuutinen, Erkki Waan, Kaisa Lehikoinen, Viljami Vaskonen, Juho Sihvonen, Toni T. Timonen, Lili Peltola, Kimmo Niiranen, Tero Mielonen, Jimi Alppimaa, Florina Kardos, Esa Turunen, Roope-Santeri Nieminen, Timo Heikura, Lauri Kinanen, Jokke Saharinen, Tuomas Myllylä ja Mika K. Saarelainen
ENNAKKOTILAUKSET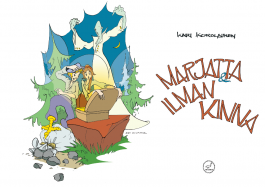 Kari Korolainen: Marjatta & Ilman Kinna (ENNAKKOTILAUS)
ENNAKKOTILAUS. KIRJA SAATAVILLA 24.2.2021.
Kaukaisesta rajametsästä löytyy salaperäinen laukku. Viranomaiset ja läheisen kylän väki ovat arvoituksellisen laukun kanssa ymmällään. Asian ratkaisemiseksi järjestetään lopulta varsinaiset "koko kylän käräjät".
Käräjäistuntoon saapuu myös Marjatta-neiti, joka on joutunut piiaksi kauaksi kotoaan. Kyläreissu tuo Marjatalle kauan kaivatun tauon, ei vain raatamiseen, vaan myös jatkuvaan kamppailuun kummitusten ja kiusaajien kanssa.
Kummitusten kynsiin on joutunut myös maankiertäjä Kinna Ilma, joka on saanut muuan kirotun upseerin haamulta tehtäväksi käydä Tuonelan virran rannalta kiviä kirouksen mitätöimiseksi. Kinnakin päätyy lopulta kyläkäräjille, mutta vangittuna.
Millaiset ovat linnunjalkajäljitelmät? Miksi käräjäväki joutuu kulkemaan navetan ovenpielen läpi? Ja miten käy Marjatan ja Kinnan? Kaikkiin näihin kysymyksiin saadaan. no, selvyyttä, kun selvitellään salaperäisen laukun arvoitusta.
Sarjakuva on 36-sivuinen värialbumi, jonka julkaisee joensuulainen kustantamo Kirjokansi. Sarjakuva edustaa tavanomaisesta poikkeavia tapoja työstää Kadonnut kinnas -hankkeen tutkimia aihepiirejä ja julkaista niistä.
ULKOMAISET UUTUUDET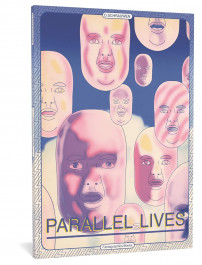 Olivier Schrauwen: Parallel Lives
One of comics' true visionary formalists reinvents science fiction in this graphic novel.
This collects six wildly inventive short comics stories that might collectively be dubbed "speculative memoir."
Schrauwen's deadpan depictions of his and his offspring's upcoming lives include alien abduction, dialogue with future agents, and coded messages in envelopes at breakfast.
.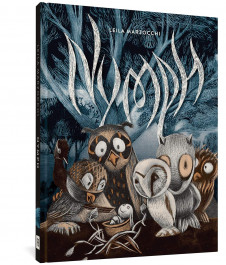 Leila Marzocchi: Nymph
In this fairy tale of a graphic novel, a mysterious, tiny being upsets the balance of the woods.
A lone, defenseless pupa has rained down from the sky.
An assembly of talking birds and trees agree to protect "Dolly" as it begins to evolve ― but into what?
As the humanoid creature starts showing a predilection for flight and music, magical clues start unveiling themselves.
Italian award-winning cartoonist Leila Marzocchi's terrifically lush scratchboard drawings are a perfect companion to her witty dialogue and profound storytelling.
Nymph gets to the heart of both human and Mother Nature to prove that, to raise a child-like larva, it takes a village.
Or at least a forest.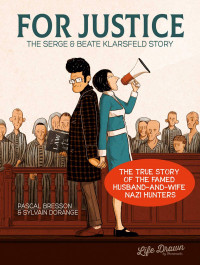 Pascal Bresson & Sylvain Dorange: For Justice – The Serge & Beate Klarsfeld Story
The remarkable true story of a mild-mannered French husband and wife who become the world's most revered pair of Nazi hunters.
For more than five decades, Serge and Beate Klarsfeld have devoted their lives to seeking justice for the victims and survivors of the evils wrought upon humanity by the Holocaust. Over the years, they have received numerous national awards for their lifetime of work hunting down Nazi war criminals and forcing Europe to face the horrors of its past.
For Justice: The Serge and Beate Klarsfeld Story is the tale of their relentless crusade for justice and their emergence as a voice for the voiceless.
Written in partnership with Serge and Beate Klarsfeld.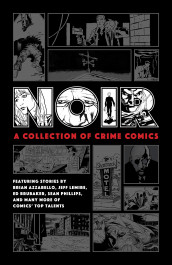 Noir – A Collection of Crime Comics
Murder, passion, and criminal enterprise are presented here at their darkest, directly from the most talented writers and artists in crime comics!
In these thirteen pitch-black noir stories, you'll find deadly conmen and embittered detectives converging on femme fatales and accidental murderers, all presented in sharp black and white by masters of the craft.
Writers: Jeff Lemire, Dean Motter, Chris Offutt, Alex de Campi, M.K. Perker, Paul Grist, Rick Geary, Ken Lizzi, Gary Phillips, Ed Brubaker, Brian Azzarello
Artists: Jeff Lemire, Dean Motter, Kano & Stefano Gaudiano, Hugo Petrus, M.K. Perker, Paul Grist, , Rick Geary, Joëlle Jones, Eduardo Barreto, Sean Phillips, Fábio Moon & Gabriel Bá.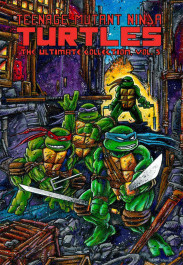 Kevin Eastman & Peter Laird: Teenage Mutant Ninja Turtles – The Ultimate Collection 5
A thorough look back at the TMNT's comic book origins with their first stories plus insightful annotations from co-creators Kevin Eastman and Peter Laird.
Rediscover the underground roots of Teenage Mutant Ninja Turtles with this special collection of Mirage Studios' issues #56-62 which includes the conclusion to the epic City at War storyline.
With over 180 pages of mutated-martial arts action along with annotations following each issue, this volume is perfect for fans to relive the glorious days of the Turtles' origins as well as an excellent place for new readers to see where the TMNT phenomenon began.
Margaret Stohl & Juan Ferreyra: Spider-Man Noir – Twilight in Babylon
Murder and mystery in the Mighty Marvel Manner!
Dateline, 1939: As the specter of war looms on the horizon, a very noir Spider-Man fights the good fight at home.
But when there's a murder at the Black Cat Nightclub and all clues point overseas, Spidey will have no choice but to board the next flight to Europe!
After months of searching, the Nazis have discovered an ancient evil in a dig site on the other side of the world.
And scrappy young reporter Peter Parker soon finds himself torn from his friendly neighborhood and thrust into the international action! Unsure who he can trust, the rookie gumshoe must embark on a globe-trotting adventure, encountering friend and foe alike — some of whom readers may find disturbingly familiar!
Collects Spider-Man Noir (2020) #1-5.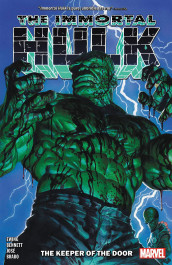 Al Ewing & Joe Bennett: Immortal Hulk 8 – The Keeper of the Door
Follow the Leader!
Hulk's archenemy sets his sights on infiltrating the green behemoth's friend group in preparation to enact his nefarious, long-fomenting plans.
Can the Leader push Hulk beyond his breaking point?
Al Ewing's best-selling, pulse-pounding story reaches new heights and new lows for the Hulk!
.
.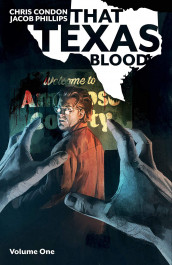 Chris Condon & Jacob Phillips: That Texas Blood 1
After an explosive confrontation over a casserole dish, Joe Bob Coates begins to question his effectiveness as Sheriff of Ambrose County, Texas.
Matters only get worse as Los Angeles-based writer Randy Terrill returns home following the sudden and mysterious death of his brother, causing a spiral down into a past filled with treachery and blood.
.
.
.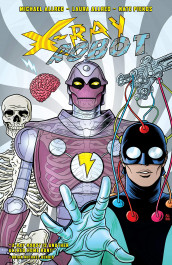 Michael Allred: X-Ray Robot
Max is a family man seeking a more interesting life.
While conducting a new experiment at work the fabric of his reality is torn before his eyes, and a robotic figure appears claiming to be his 277 year-old self.
The robot is able to "X-Ray" multiple dimensions and battles a nihilistic entity from another dimension who wants to take all life to its "Pre-Big Bang" status. Max and the robot embark on an interdimensional roadtrip through past and future to take down the "Nihilist" and save the universe!
Collects X-Ray Robot #1-#4 and features a 3D cover section and pinups by Chris Samnee, Greg Smallwood, Tradd Moore, and David Rubín.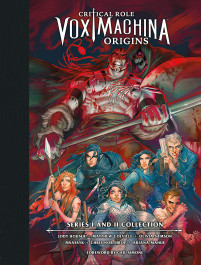 Matthew Colville & Olivia Samson: Critical Role – Vox Machina Origins Library Edition
The celebrated series Critical Role: Vox Machina Origins returns in this stunning hardcover edition! Fans of the series won't want to miss this beautiful collection.
What do a flirtatious bard, a clueless barbarian, a naïve druid, and a pair of stealthy twins all have in common?
They're not sure either, but one day they'll become the heroes known as Vox Machina!
Follow the main characters from the smash-hit series Critical Role as they team up for the first time, facing cults and curses in the revelation of their origins and the path that will lead them to glory…eventually.
Collects Vox Machina Origins I and II in a gorgeous new Hardcover with never before seen artwork!
Writers: Matthew Colville, Jody House
Artists: Olivia Samson, Chris Northrop, Chris Kawagiwa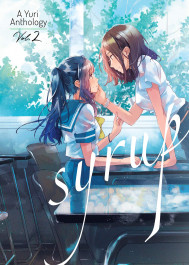 Syrup – A Yuri Anthology 2
FORBIDDEN FRUIT.
Secret love is sweeter!
The second volume of this popular yuri anthology goes dark, with stories about love between women that's hidden, unrequited, fantasy-based, or even taboo.
Explore the forbidden side of love with new and returning artists in Volume 2 of Syrup.
.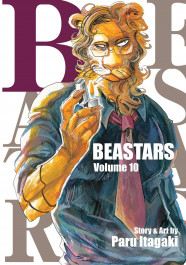 Paru Itagaki: Beastars 10
At a high school where the students are literally divided into predators and prey, friendships maintain the fragile peace.
Who among them will become a Beastar–a hero destined to lead in a society naturally rife with mistrust?
Red deer Louis learns he has more in common with lion Ibuki, his biggest supporter in the Shishi-gumi gang, than he thinks.
While the blood feud between gray wolf Legoshi and brown bear Riz escalates, puma Tao and anteater Kibi attempt a reconciliation.
Giant panda Gohin continues his work attempting to cure carnivores of their meat addiction.
And surprising secrets of Legoshi's family and past are revealed.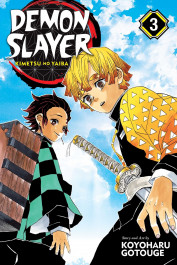 Koyoharu Gotouge: Demon Slayer – Kimetsu No Yaiba 3
Tanjiro sets out on the path of the Demon Slayer to save his sister and avenge his family!
In Taisho-era Japan, kindhearted Tanjiro Kamado makes a living selling charcoal.
But his peaceful life is shattered when a demon slaughters his entire family.
His little sister Nezuko is the only survivor, but she has been transformed into a demon herself!
Tanjiro sets out on a dangerous journey to find a way to return his sister to normal and destroy the demon who ruined his life.
Tanjiro and Nezuko cross paths with two powerful demons who fight with magical weapons.
Even help from Tamayo and Yushiro may not be enough to defeat these demons who claim to belong to the Twelve Kizuki that directly serve Kibutsuji, the demon responsible for all of Tanjiro's woes!
But if these demons can be defeated, what secrets can they reveal about Kibutsuji?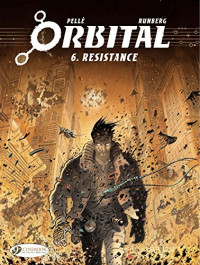 Sylvain Runberg & Serge Pellé: Orbital 6 – Resistance
The Confederation is on the brink of civil war!
After fleeing Confederate space, Caleb and Mezoke are hiding among a community of exiles disgusted by the corruption and violence infecting the galactic government.
Caleb is recovering slowly, just as Angus, the living ship, is doing on a different world.
But a powerful, dangerous psychic link seems to exist between them, and all are actively hunted by both the authorities and a terrorist group.
When running ceases to be the answer, the only option left is resistance…
LEHDET JA KIRJAT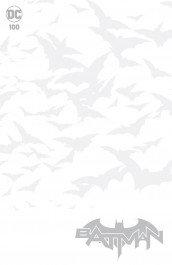 James Tynion IV: Batman #100 (BLANK VARIANT COVER)
"The Joker War" comes to a city-shattering conclusion as Batman battles The Joker in a brutal, no-holds-barred duel!
This is a fight 80 years in the making, and its outcome won't just change Batman's life-it will change Gotham City for years to come!
Plus, catch the first glimpse of the new villain known as Ghost-Maker!
And after the senses-shattering conclusion of "The Joker War" come a pair of short stories that will chart what's to come in Gotham City and Batman.
Don't miss the first showdown between Batman and Clownhunter!
KÄYTETYT SARJAKUVAT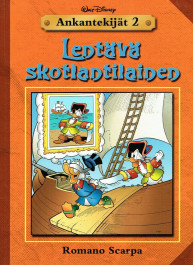 Romano Scarpa: Ankantekijät 2 – Lentävä skotlantilainen (K)
KÄYTETTY. Pieniä jälkiä kansissa.
Ankantekijät-sarjan toinen osa esittelee itseoikeutetusti Romano Scarpan kultakauden parhaita tarinoita.
Scarpan loistokkaat piirrokset ovat tuttuja suomalaisille lukijoille lähinnä Aku Ankan taskukirjan sivuilta, eikä hänen vaivatonta kynänjälkeään voi olla tunnistamatta. Monet ankistit pitävätkin häntä liki Carl Barksin veroisena taiturina.
Scarpa on myös luonut useita klassikkohahmoja: Atomiinus, Riitta Hanhi, Into Ankka ja monet muut sankarit ovat lähtöisin nimenomaan Scarpan mielikuvituksesta.
Esimerkiksi arkistojen kätköistä kaivetut Aku ja Amundsenin amuletti ja Mikki-tarina Viimeiseen voittoon ovat suorastaan hykerryttävän hauskoja osoituksia Scarpan kyvystä piirtää ja käsikirjoittaa ankalliskirjallisuuden helmiä.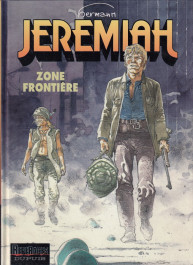 Hermann: Jeremiah 19 – Zone frontière (K)
KÄYTETTY.
Toujours à la recherche de Lena, unique amour de sa vie, Jeremiah découvre par hasard une carcasse d'engin carbonisé et des corps méconnaissables.
Pris de malaise, l'aventurier ne doit son salut qu'à la présence d'esprit de son ami Kurdy… Mais ils ne sont pas les premiers à avoir fait cette étrange découverte: d'autres ont même réussi à capturer le dernier des survivants et l'ont traîné jusqu'à la ville la plus proche pour en tirer un bon prix.
Là, un à un, tous ses gardiens meurent dans d'atroces circonstances alors que peu à peu la population est prise d'inexplicables malaises.
C'est au milieu de ce mystère que réapparaît Lena…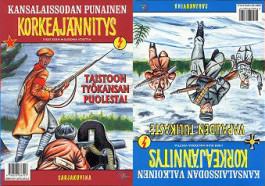 Asko Alanen & Samson: Kansalaissodan valkoinen ja punainen Korkeajännitys (K)
Yhteisnide. Toisella puolella Kansalaissodan punainen Korkeajännitys: Taistoon työkansan puolesta! ja toisella puolella Kansalaissodan valkoinen Korkeajännitys: Vapauden tulikaste.
.
.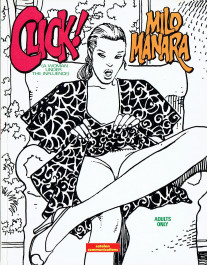 Milo Manara: Click! (K)
KÄYTETTY, ENGLANNINKIELINEN. Ensimmäisellä sivulla edellisen omistajan tekemä merkintä.
A spectacular discovery, a sure-fire remedy for impotence, a small instrument which acts on the brain.
A discovery which arouses the sensen.
Inflames desire. A change in owner, a change in use: a game.
The player: a clever, unscrupulous voyeur.
The toy: the beautiful Claudia, a rich, but hopelessly frigid housewife. Frigid? Click! Claudia ignites and the whole country flares up.
Click! Claudia crawls, slithers, begs, exposes herself. Scandal!
But will she want it all the time? Click!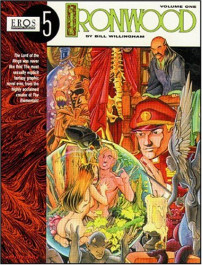 Bill Willingham: Ironwood 1 (K)
KÄYTETTY.
Sword & sorcery adventure and hardcore erotic comedy – two great tastes that taste great together!
Bill Willingham, creator of the acclaimed Elementals and Coventry comics, injects a healthy dose of lust into the fantasy genre with Ironwood, an epic graphic novel that will thrill, titillate, and amuse readers with a taste for the offbeat.
.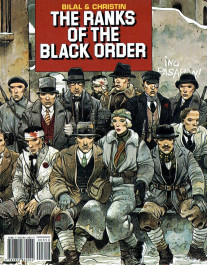 Pierre Christin & Enki Bilal: The Ranks of the Black Order (K)
KÄYTETTY. Selässä ja kansissa taittuma. Ensimmäisellä sivulla edellisen omistajan tekemä merkintä.
Not unlike contemporary political situations in which terrorism leads to counterterrorism in a vicious circle, The Ranks of the Black Order illuminates the tragedy and monstrosity of violent vengeance on a human scale.
The novel takes as its starting point the ultimately pointless struggles of left- and right-wing militants in Spain in 1938.
Never having forgotten their defeat, a terrorist faction returns to the village of Nieves and massacres its inhabitants as the story opens forty years later.
Enraged by the minor coverage given the slaughter, the journalist Jefferson Pritchard regroups his brigade and resolves to wipe out their old foes from the Black Order.
As one crusty old group pursues the other across Europe, the distinctions between principles between left and right, all but vanish into a senseless haze, without victors or vanquished, leaving only victims.
1. printing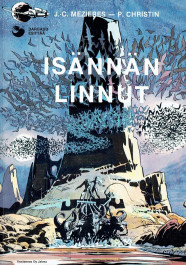 Mézières & Christin: Valerian – Isännän linnut (K)
KÄYTETTY. Hieman kulumaa kansissa, pari lukemisen aiheuttamaa taittumaa. Ensimmäisellä sivulla edellisen omistajan merkintä.
Valerian ja Laureline haaksirikkoutuvat jääden vangeiksi salaperäiselle asteroidille, jota hallitsee salaperäinen Isäntä.
Mielenviejälinnut pitävät kurissa vankeja, jotka käyttävät kaiken aikansa kerätäkseen Isännälle ruokaa.
Valerian organisoi vankien kapinan vapauttaakseen heidät Isännän julmasta ikeestä.
1. painos.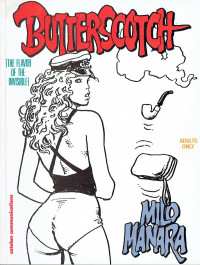 Milo Manara: Butterscotch (K)
KÄYTETTY, ENGLANNINKIELINEN. Ensimmäisellä sivulla edellisen omistajan tekemä merkintä. Kansissa lukemisen jälkiä ja selkämys taittunut ylhäältä.
"I want to thank all of you who made CLICK! such a success.
CLICK! was a tongue-in-cheek romp through male fantasies and I had so much fun drawing it that I wanted to go even further.
That's how BUTTERSCOTCH was born.
It's based on a theme as old as the world and one which always fascinated me: Who has never dreamed at least once being invisible to other people? But, then, is it really just a dream?…"
– Milo Manara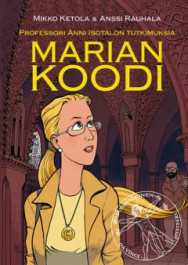 Mikko Ketola & Anssi Rauhala: Marian koodi (K)
KÄYTETTY. PIENIÄ JÄLKIÄ KANSISSA.
Helsingin yliopiston professori Anni Isotalo ei arvaa mihin joutuu, kun suostuu matkanjohtajaksi Da Vinci -koodiin hurahtaneitten suomalaisturistien seurueeseen.
Matkan aikana hänen eteensä ilmaantuu johtolankoja ja outoja yhteensattumia, joiden verkko ulottuu Pariisista Pohjanmaalle…
Marian koodi -sarjakuva sykkii mysteereitä ja huimia juonikäänteitä. Arvoitusten sakeaa vyyhteä ratkoo pätevä sankaritar Anni Isotalo.
Marian koodi on tyyliltään sukua ranskalais-belgialaisten koulukuntien mestareille.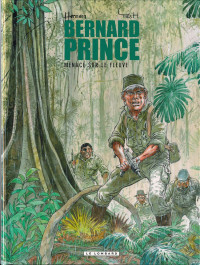 Hermann & Yves H.: Bernard Prince 18 – Menace sur le fleuve
KÄYTETTY.
Près de 30 ans après la parution de leurs dernières aventures, les trois bourlingueurs créés par Greg reviennent forts de leur dessinateur original, Hermann, accompagné au scénario de son fils, Yves H.
Sitôt nos aventuriers retrouvés, voilà que l'action vient tambouriner à la porte.
En effet, quoi de mieux, à l'heure de ce nouveau départ, que de régler les vieux comptes en suspens?
C'est ce que s'est dit un vieil adversaire de l'ancien policier, qui a fait kidnapper Djinn, pour mieux attirer Bernard Prince et Barney Jordan dans ses griffes.
Heureusement, le passé de nos héros ne renferme pas que des ennemis, loin s'en faut…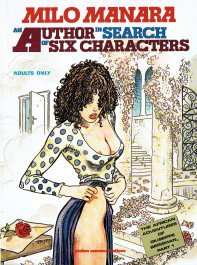 Milo Manara: An Author in Search of Six Characters (K)
KÄYTETTY, ENGLANNINKIELINEN. Ensimmäisellä sivulla edellisen omistajan tekemä merkintä. Kansissa lukemisen jälkiä.
Twisting Pirandello's Six Characters in Search of an Author, Manara places his iconoclastic, globe-trotting hero, Giuseppe Bergman, on another stage in his quest for adventure.
An off-panel director hands out the script to everyone and disappears… Determined to play his role, Bergman soon finds out that other characters and events pre-empt the entire scenario, inspite of various attempts to keep it on track.
His sexy co-star, Lulu, intended as the script's erotic appeal, turns out not to be a bimbo in the story and, as heroine, ultimately leads us to ponder weighty matters, such as the ability of free will to shape our lives: Is life a stage and do we just follow a script?
Can we alter our roles or should we keep our mouth shut and do as we're told?
But watch out! Manara's ending may surprise you…
1. printing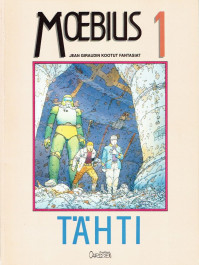 Moebius: Moebius 1 – Tähti (K)
KÄYTETTY, HYVÄKUNTOINEN. Ensimmäisellä sivulla edellisen omistajan tekemä merkintä. Pieni taitos selässä.
Tähti luotiin alunperin ranskalaisen Citroen-autotehtaan tilauksesta, ja albumin loppupuolella se on helposti havaittavissa.
Moebius luki tarinansa myöhemmin uudelleen, ja se inspiroi hänet luomaan kokonaisen tarun ensimmäisen osan avonaiseksi jääneen lopun pohjalta. Nyt näemme tuon Aedena-tarun ensimmäisen osan.
Stel ja Atan vaeltavat avaruudessa kaukana, kaukana tulevaisuudessa ja joutuvat oudosti autioituneelle avaruusasemalle.
Pian tämä asteroidin sisään rakennettu avaruusasema suistuu kiertoradaltaan ja putoaa suunnattoman jättiläisplaneetan pinnalle.
Niin alkaa henkeäsalpaava odysseia, josta ei puutu intuitiota, mielikuvitusta ja vangitsevaa kauneutta…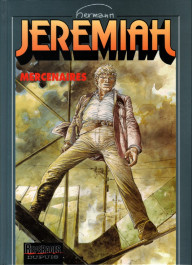 Hermann: Jeremiah 20 – Mercenaires (K)
KÄYTETTY.
Quel fantastique trésor se cache au fond de cette mine infernale?
Son exploitant ne recule devant aucune bassesse pour en percer le secret. Même la mort de ses ouvriers ne semble pas l'arrêter.
Projetés dans cet enfer souterrain, Jeremiah et Kurdy vont une fois encore se jeter têtes baissées dans un piège où sont déjà coincés Julius et Roméa, deux anciennes connaissances.
Et, au loin, inexorablement, de puissantes troupes de mercenaires avancent à la tête d'une horde d'éléphants… à la manière d'Hannibal !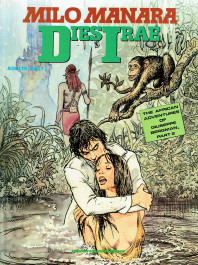 Milo Manara: Dies Irae (K)
KÄYTETTY, ENGLANNINKIELINEN. Ensimmäisellä sivulla edellisen omistajan tekemä merkintä.
The second part of Giuseppe Bergman's adventure in Africa begins with a nymphet who asks too many questions – not just about the facts of life, but about the fictions, too.
Chloe beckons us into the tale of Bergman who must make his way to the Hotel Virgoberg, renowned among the jet set and in legend, on a mission to restore a kidnaped child to her tribe.
But altruism is not the only thing on his mind.
His true longing is to achieve the status of hero in his own adventure, rather than hapless plaything of an omniscient narrator.
The plot is continually ruptured by awareness of itself as artifice and much of this authorial tampering is instigated by Chloe herself, as she winks in and out of the story line like a prepubescent Tinker Bell, puzzling over the nature of ink and ontology.
The climactic DIES IRAE, the Day of Wrath, begins at midnight as a character's attempt to create "life" results in the escape of the soulless creature (who is more than figuratively full of crap) and sends the Virgoberg community crashing in-to oblivion.
1. printing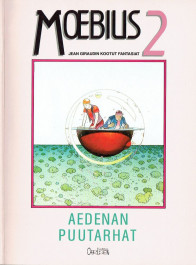 Moebius: Moebius 2 – Aedenan puutarhat (K)
KÄYTETTY, HYVÄKUNTOINEN. Ensimmäisellä sivulla edellisen omistajan tekemä merkintä. Takakannen nurkassa pieni taitos.
Aedenan puutarhat on jatkoa Moebiuksen albumille Tähti, ja tässä Tokiossa ja Los Angelesissa tekemässään tarinassa hän jatkaa totuuden ja hyvyyden etsimistä Carlos Castanedan ja Zenin opit mielessään.
Avaruudessa, kaukaisessa tulevaisuudessa vaeltavat Stel ja Altan lähtivät edellisen albumin lopussa elävällä avaruusaluksella matkalle kohti tarunhohtoista paratiisiplaneettaa, Aedenaa.
Nyt he saapuvat sinne…
mutta Aedenallakin unilla on pimeät puolensa, ja täälläkin Stelin ja Atanin on jatkettava vaellustaan…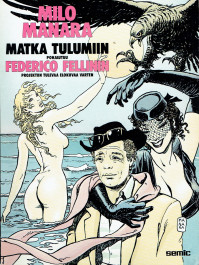 Milo Manara & Federico Fellini: Matka Tulumiin (K)
KÄYTETTY. Kansissa aika paljon taittumia ja muita jälkiä.
Pohjautuu Federico Fellinin projektiin tulevaa elokuvaa varten.
.
.
.
.
.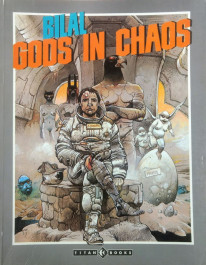 Enki Bilal: Gods in Chaos (K)
KÄYTETTY. Selässä ja kansissa taittuma.
Paris, in a not-very-distant future, turns into a nightmare-fantasy depicted as realistically as an historical documentary.
Gods in Chaos is the utopian dream of immortality as an equivalent to power-madness expressed through the apocalypse of a world whose defects have caused its gradual and monstrous disintegration.
1. printing
.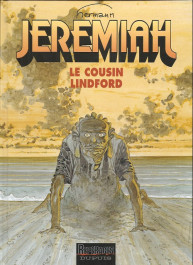 Hermann: Jeremiah 21 – Le cousin Lindford (K)
KÄYTETTY.
Une grande vague rejette un corps sur la plage.
Apparaît une sorte d'humain avec des lobes d'oreilles qui n'en finissent pas, de grands yeux sans cils et une crête de chair ondulant sur le crâne.
À moto, Jeremiah et Kurdy débarquent non loin de là. Ils n'auraient pas dû. Fréquenter le cousin Lindford, copie conforme de l'homme aux lobes démesurés, n'est pas bon pour leur santé.
Car la chasse aux clones est ouverte, et parmi les chasseurs se trouve un certain Stonebridge, une vieille connaissance…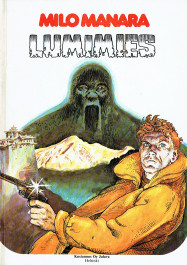 Milo Manara: Lumimies (K)
KÄYTETTY. Kansissa lukemisen jälkiä ja ensimmäisellä sivulla edellisen omistajan merkintä.
Sarjakuvan mestareita n:o 16.
.
.
.
.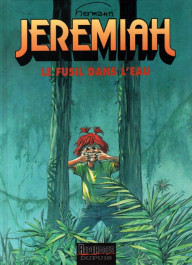 Hermann: Jeremiah 22 – Le fusil dans l'eau (K)
KÄYTETTY.
Alors qu'ils fuient une horde de motards alcoolisés, Jeremiah et Kurdy tombent sur Jason, qui croupit au fond d'un puits.
En échange de leur aide, Jason leur propose de venir se réfugier chez lui, au fin fond des marais. Le marché semble honnête.
La famille de Jason, elle, est moins enthousiasmante; il y a Marge, la mère nymphomane, surveillée par Less, son quatrième mari, toujours sur le qui-vive.
Il y a Tod, Willie et Shank les frères taiseux et belliqueux qui se seraient passés de visiteurs. D'autant que Jeremiah et Kurdy viennent déranger une affaire de famille, sous forme d'une valise pleine d'argent que Jason a dérobée.
Pour ses frères, l'heure des arrangements est terminée… et les témoins vivants ne sont pas désirés.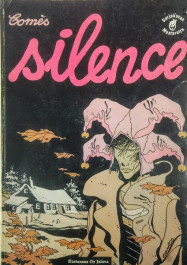 Didier Comés: Silence (K)
KÄYTETTY. Hyvä lukukappale. Kulumaa kansissa ja pupu on jyrsinyt takakannen yläkulmaa (kts. kuva). Otsikkosivulla edellisen omistajan nimmari.
Silence on toinen belgialaisen sarjakuvapiirtäjä Didier Comèsin suomeksi julkaistu albumi.
Silence on mystiikan läpitunkema tarina takapajuisilta Ardennien vuorilta, jossa noituus ja taikausko vielä vallitsevat.
Tarina on alunperin ilmestynyt belgialaisessa A Suivre -sarjakvualehdessä.
.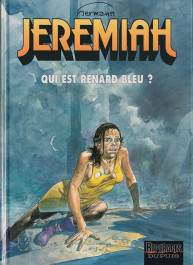 Hermann: Jeremiah 23 – Qui est Renard Bleu ? (K)
KÄYTETTY.
De petits boulots en contrats à durées très déterminées, Jeremiah et Kurdy arrivent dans une ville où le jeu et le commerce du sexe sont les principaux moteurs économiques.
Les patrons de casinos sont les pourvoyeurs en chair fraîche de politiciens forcément corrompus, les représentants du culte sont d'anciens barmen reconvertis en prédicateurs de pacotille.
En cherchant du travail, Jeremiah croise Gazoleen, une charmante hôtesse très entreprenante, et oublie, une fois de plus, que ses pires ennuis sont venus des femmes.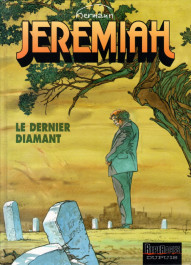 Hermann: Jeremiah 24 – Le dernier diamant (K)
KÄYTETTY.
À Langton, Glenn passe pour un flic honnête.
Et pour un type à part: il est marié à Violeta, une jeune Mexicaine souvent confrontée à la xénophobie ambiante.
Glenn est un flic hanté par sa conscience. Sur les lieux d'un crime particulièrement violent, le policier a trouvé une chaînette qu'il connaît bien. Et pour cause.
Des années auparavant, il l'avait offerte à son jeune frère, Jef. Dès lors sont en place les protagonistes d'un drame familial particulièrement sordide. Avec comme témoin privilégié Jeremiah, venu rendre visite à sa vieille tante Martha…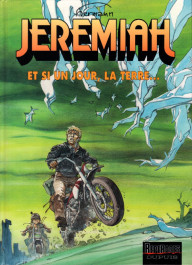 Hermann: Jeremiah 25 – Et si un jour, la Terre… (K)
KÄYTETTY.
."Écoute homme, écoute la terre… Entends-la gémir sous tes coups… Ton arrogance… Elle est ta mère et tu ne le sais plus… Homme cupide, homme stupide… Cette terre… Elle ne t'aime plus."
Dans un paysage de cauchemar, au coeur d'une forêt pétrifiée, le murmure du vent se fait menaçant. Dans cette ambiance délétère, Jeremiah et Kurdy, à court d'essence, acceptent d'escorter un groupe de cinq personnes aux prises avec des tueurs qui les poursuivent, contre un peu de carburant. Sans savoir contre qui ils vont devoir se battre, Jeremiah et Kurdy découvrent peu à peu les tensions qui règnent au sein du groupe qu'ils sont censés protéger.
Le convoi avance lentement alors que la menace qui pèse sur eux se fait plus précise…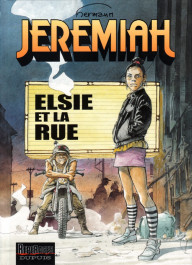 Hermann: Jeremiah 27 – Elsie et la rue (K)
KÄYTETTY.
À Langton, Blitz le receleur règne en maître sur une armée de chapardeurs.
Il recrute ses petits "soldats" parmi les paumés de la ville à qui il offre le gîte et le couvert en échange des fruits de leurs larcins. "À vous les risques, à moi l'argent!"
Elsie n'est pas dupe. Elle rêve de s'affranchir.
Quand elle croise Milova, la jeune protégée de Jeremiah et Kurdy, mal à l'aise dans ses haillons, Elsie se reconnaît en elle. Milova a les mêmes yeux qui pétillent devant les belles vitrines des magasins.
Nul doute qu'il suffirait de la pousser pour qu'elle franchisse le pas et devienne son associée dans sa propre entreprise de chapardage.
Et tant pis pour Jeremiah qui a promis à sa tante Martha de veiller sur les bonnes fréquentations de la gamine…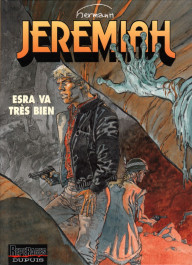 Hermann: Jeremiah 28 – Esra va très bien (K)
KÄYTETTY.
Esra va très bien, merci pour elle.
Pour Jeremiah et Kurdy, en revanche, rien ne va plus. Pistés par deux adjoints au maire aussi stupides que vaniteux, nos deux amis ont bien du mal à se frayer une issue entre les balles.
Ils ne sont coupables de rien, parole! Si ce n'est peut-être d'avoir tenu tête à deux crétins assermentés…
Quand l'autorité dérape, tout est permis.
Même de faire porter le chapeau à deux innocents des crimes à répétition qui terrorisent toute une ville…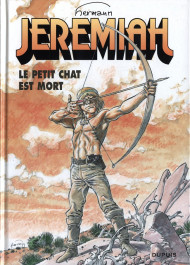 Hermann: Jeremiah 29 – Le petit chat est mort (K)
KÄYTETTY.
De passage chez de vieilles connaissances, Jeremiah intervient par hasard dans une bagarre, dans un bar.
Pris malgré lui dans le conflit qui oppose les ouvriers de la mine locale à leur patron, Jérémiah va se retrouver dans la ligne de mire du fils du propriétaire de l'exploitation minière…
Pas vraiment un modèle d'intelligence et de discernement, qui va trouver en la personne de Jeremiah, secondé par Kurdy, une vraie raison de regretter d'avoir été si bête.
OHEISTAVARAT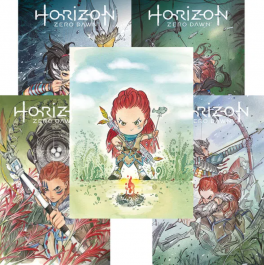 Anne Toole & Ann Maulina: Horizon Zero Dawn Peach Momoko Pack
Collects the stunning artwork of fan favorite artist Peach Momoko plus an exclusive virgin variant cover – only available with this pack!
A brand-new comic series based on the award-winning game by Guerrilla.
Aloy and Talanah return in a new story set after the events of the game!
Nature has reclaimed the planet.
Awe-inspiring machines dominate the land, as humanity fights for survival on this new earth.
Co-created by one of the writers of Horizon Zero Dawn game Anne Toole.